Hangzhou, China, 23 July 2023 – The exciting Esports event, Street Fighter V: Champion Edition of the Road to Asian Games 2022 Phase II, concluded on 23 July 2023 in Hangzhou, China. Athletes from fifteen countries of the five major Asian regions competed fiercely in the intense tournament, showcasing their skills in the popular fighting game. Athletes played in a Best-of-Three (BO3) match format with VERSUS, 99 seconds, 2/3 Rounds, where the winner is the first athlete to win two games. Let's look at the final game highlights:
WEST ASIA & CENTRAL ASIA REGION
Talal Faud T "Taloobreaker" Rajikhan from Kingdom of Saudi Arabia
Amidst the thrilling and intense competition, KSA.Taloobreaker, with his main character "G," proved to be a formidable challenger and emerged victorious in his last battle against BRN.xPhoenix's intimidating "Vega". This led him to secure the Top Rank in the fiercely contested West Asia & Central Asia Region. KSA.Taloobreaker's unwavering performance throughout the competition saw him remain undefeated, clinching an impressive record of 3 wins. Moreover, his exceptional abilities were recognized and celebrated as he was crowned the Audi Super A Athlete Award.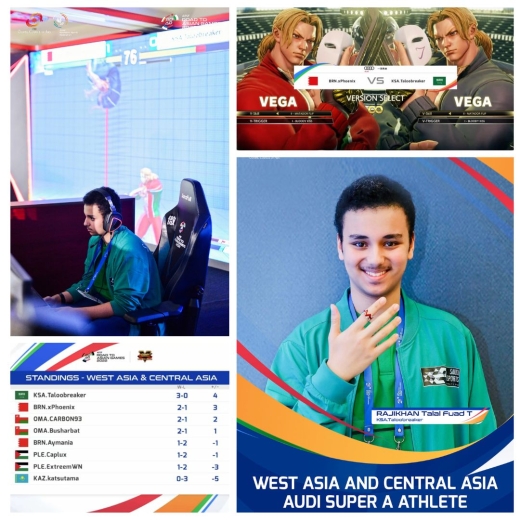 EAST ASIA & SOUTH ASIA REGION
Hsiang "GamerBee" Yu-Lin from Chinese Taipei
In the final match of the East Asia & South Asia Region, TPE.GamerBee, choosing to play his female character "Lucia," engaged in an intense battle against HKG.HotDog28's character, "Ed." Initially, Lucia found herself facing an intimidating challenge, as Ed unleashed a powerful offense. However, undiscouraged, she performed an epic comeback, utilizing her skill, "tap kick", to counter Ed's "psycho swing" and securing a sweet victory. TPE.GamerBee's unbeatable streak was evident throughout the competition, as he skillfully secured the Top Rank in the fiercely competitive East Asia & South Asia region. In recognition of his exceptional performance, TPE.GamerBee was awarded the Audi Super A Athlete Award.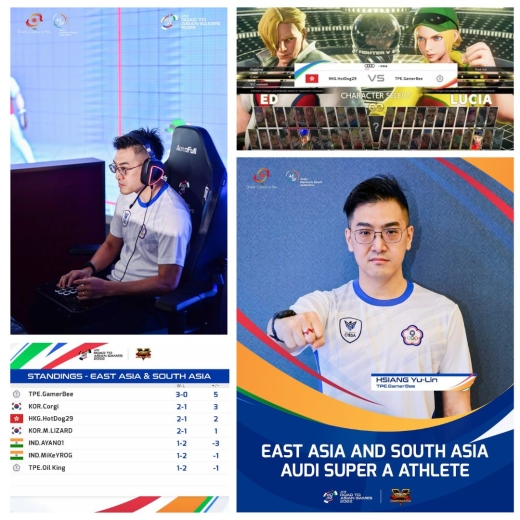 SOUTHEAST ASIA REGION
Chia "Brandon" Teck Hui from Singapore
The final match of the Southeast Asia Region saw SGP.Brandon display his "hard shot" v-skill with his character "Luke," engaging in a gripping battle and gaining a strong advantage in the first round against MAS.Lacunac's female character "Falke." However, in the first match of the second round, Luke was ultimately defeated, succumbing to Falke's devastating 5th hit with her metal shaft. Nevertheless, Luke didn't back down as he made a spectacular comeback, defeating Falke in the final round and emerging victorious. Throughout the competition, SGP.Brandon showcased remarkable prowess, achieving an impressive clean sweep, securing him the Top Rank in the Southeast Asia Region, and earning him the Audi Super A Athlete Award.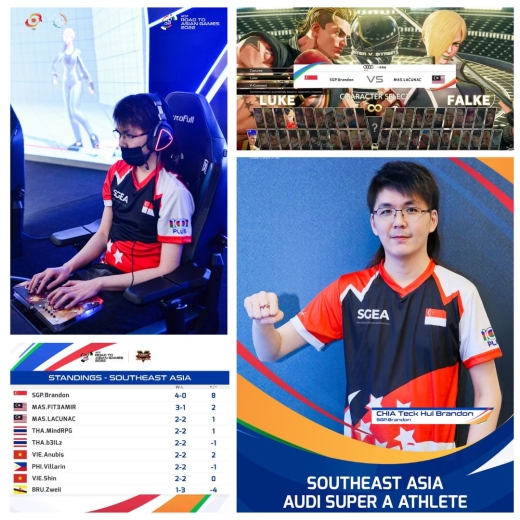 Here are the final standings of the competition: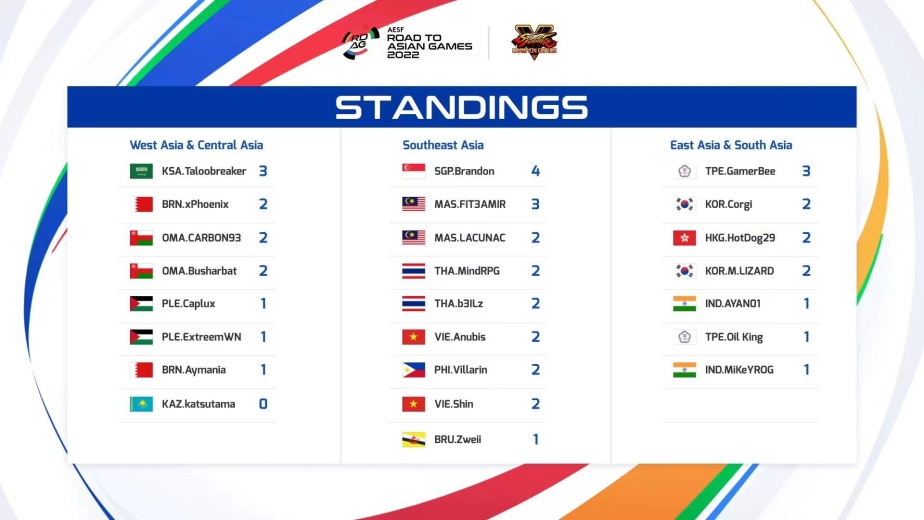 For those who missed the exhilarating showdown, the live-streamed videos can be found on AESF Official YouTube, Facebook and Twitch channels, allowing fans to re-watch the matches. Excitement awaits as these remarkable teams will be competing live at the upcoming 19th Asian Games, scheduled to be held in Hangzhou, China.